'A full and warm tone you wouldn't expect from an instrument this size.'
Here at Emerald Guitars, we were delighted when Youtube music sensation Mary Spender featured an Emerald Guitars X7 on her channel. Featuring smooth arm bevels and asymmetrical side design for ultimate comfort, and the 24" scale and deep rear cutaway, the X7 offers ease and playability right up to the 20th fret. For a parlour-sized shorter scale guitar, the X7 produces, in Mary's words, 'a full and warm tone you wouldn't expect from an instrument this size.'
With her Youtube channel amassing over half a million subscribers, it's clear to see that Mary's videos are a must-watch for any guitarist. Mary's success comes as a result of her unique and informative content – covering lessons, reviews and interviews with musicians. As a songwriter, her work has received critical acclaim and even nods from John Mayer.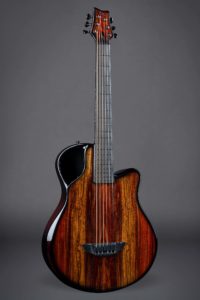 Discussing the background of Emerald, the construction process of our carbon fiber guitars, and the many possible custom options available, Mary's informative video covers all bases. Recording the X7 with the X/Y capsule from her Zoom H6, with no effects, Mary samples the raw audio from the X7 – illustrating the punchy tone of the guitar. Mary also demonstrates the plugged-in tone of the X7 through the LR-Bagg's Element Pickup.
With high temperature tolerance, player centric ergonomics and a great tone, the X7 is the parlour-sized travel guitar of the future.
Join Mary as she performs some fingerstyle tunes on the Emerald Guitars X7, and discusses why the Emerald Synergy Harp Guitar is next on her list.
Check out Mary's website and social media links below:
https://www.maryspender.com/
https://www.instagram.com/maryspender/
https://www.facebook.com/MarySpender