Not too many musicians can claim to have the life experiences of Driftwood Holly. Originally hailing from Germany, Driftwood now lives on the Canadian part of the Yukon River – in sub-zero temperatures – on a houseboat he built himself. A critically acclaimed musician, Driftwood's music – as well as his unique lifestyle, attracted the interest of the legendary music producer Sylvia Massy.
Known for her work with Tool, Red Hot Chili Peppers, Johnny Cash and so many more, Sylvia was intrigued at the prospect of recording such a unique performer in such a unique setting. Sylvia's interests lie in what she terms 'Adventure Recording', something she illustrates in her book 'Recording Unhinged'.
'Why Sylvia Massy…. She calls herself an adventure recording artist, and I am an adventure musician. I think it was the perfect match. I think one of her greatest features is that she can make you extremely comfortable with your art.' – Driftwood Holly

With the sub-zero temperatures and high humidity of his environment in mind, Driftwood Holly borrowed an Emerald Guitars X20 from a friend for these recording sessions. Impervious to the elements due to its carbon fiber construction, the X20 was the perfect guitar for this session. Designed for comfort, playability, and of course sound, the X20 has been Emerald Guitars' most popular model since its release. Watch as a Driftwood describes how the Emerald copes with the elements below.
Arriving on Driftwood's self-built houseboat the Wooden Pearl in August 2019, Sylvia set up to record Driftwood playing his Emerald X20 on deck. Using a Mix Pre10 and WA47 Jr for recording the 'fabulous' Emerald Guitar, Sylvia also had a handheld mic, and a mic under the boat to record the sound of the boat on the water. The result was the crafting of two beautiful recordings – one entitled 'The Bear Song', to be included on Driftwood's 2022 yet-to-be-named album.

'Well for any traveling musician it's essential, because you don't know what kind of environment you're going to be playing in and changes in altitude, changes in humidity, changes in temperature… these things drastically change the sound of the guitar… it's the worst thing to have a guitar… slip out of tune in a take… You don't want the guitar to be a problem. We choose instruments that are stable, that remove themselves from any trouble… and the guitar sounds great. You can't complain about the sound of these guitars, they are fantastic – as well as really usable.' – Sylvia Massy
Following his positive experiences with the borrowed X20 aboard the Wooden Pearl, Driftwood decided to purchase his own guitar, with his own X20 model arriving in 2020.
'This is the best guitar I've ever had. The neck has never moved – there have been zero issues. It's so reliable… When I used to be on stage, I had a beautiful wooden guitar, and for at least a third of the gig I was trying to keep the thing in tune. I want to stress that. Now I can be on stage, I can rest my mind about the guitar. No matter if I'm on a windy boat or a mine shaft or wherever – and I've played all these places – the guitar is not a problem anymore. The guitar is there to serve me. The Emerald had the looks, the feel and the sound of a ten thousand dollar guitar. I'm Driftwood Holly, look at my name – I'm a wood addict. For me to go Carbon was almost a spiritual collapse. I could only do it by saying 'this might be the guitar I play for the rest of my life.' I needed a guitar that was as adventurous as I am.' – Driftwood Holly
Check out Driftwood's Emerald below.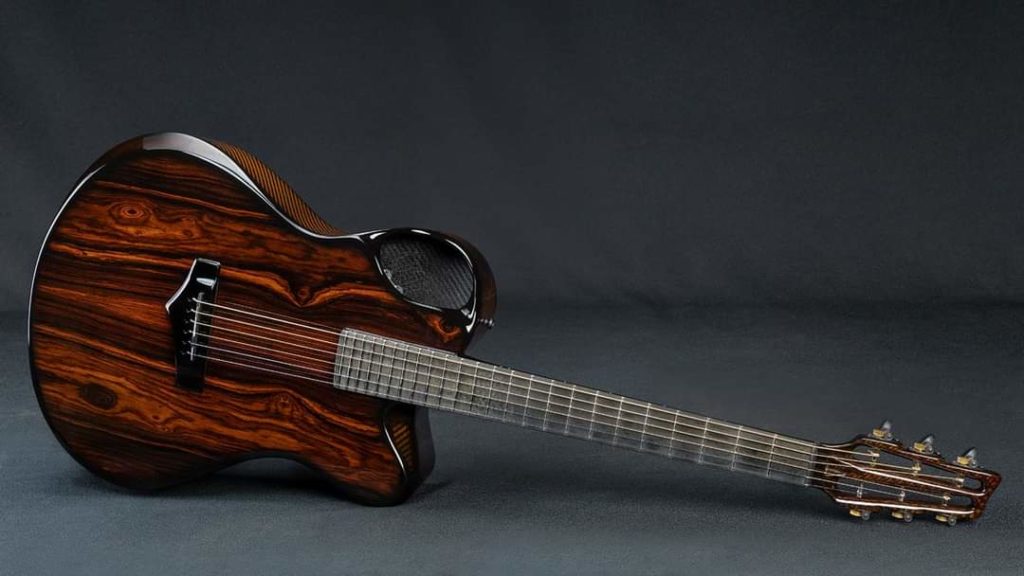 You can support Driftwood's music by going to his social media pages and website below:
https://www.instagram.com/driftwoodholly/
https://www.driftwoodholly.com/
https://www.youtube.com/user/hollyhaustein