We recently caught up with Emerald Customer Greg Cox based in Calgary in Canada, who has a lovely collection of Emerald guitars finished with Royal Ebony veneers. An avid guitar collector all his life but Greg's X20 and his Chimaera take pride of place at many of his performances.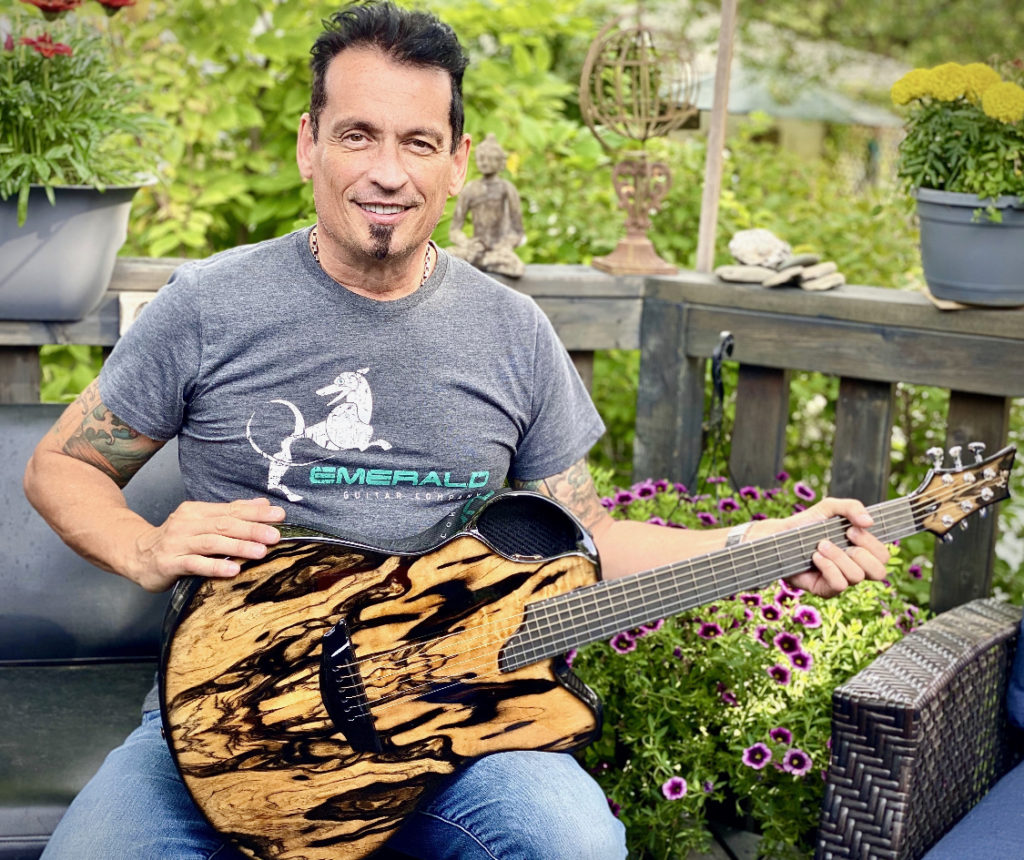 'I have been a full time professional musician since 1975. Originally drumming (underage by permission) in clubs I switched over to guitar as a result of a wrist injury. It was also great to learn on my older brothers 1968 Les Paul (which I still own). Moving forward I toured the US and Canada playing lead guitar for 15 years with the rock band "Steeler "ending in 1993 ,after that I formed the rock cover band "Playground " which still performs every weekend celebrating our 27th year together! In 1998, I formed an acoustic unplugged band call "The LostBoys" which got me started on an acoustic doubleneck which ultimately led me to discovering the Chimaera.'
'Alistair contacted me about an X20 they built using almost the same veneer as my custom Chimaera. The" twin" had to be mine!.. It plays and sounds fantastic! My Chimaera is absolutely stunning! Alistair re-thought the typical double-neck, offsetting the necks, added a few custom mods for me, and topped it with a killer Royal Ebony "Twin Birds" veneer we picked together, this is the best double-neck I've ever played!! The band is still together today and the Chimaera is definitely front and centre!
In 2002 I formed "Brokentoyz " …an 80's Hair Metal tribute that has the "world record" for playing every Tuesday night in the same club from 2002-2017 and is still going strong . Spending the last 5 years playing and singing the role of David Gilmour in the world class Pink Floyd tribute "Pink 4reud" ( using the Chimaera and X20) as well as performing solo and a duo versions of "The Lost Boys" has kept me busy up to seven nights a week (pre Covid) when again my Emeralds are always in the spotlight!'
For more stories like Gregs please check in to our Community section on our website where you will also find all the Shipping Videos, Emerald Cottage Sessions Performances, the Breaking The Mould Show and much more.