To understand why this guitar matters so much to me, you have to understand Kauai and its importance to me. Kauai is a small island – the most isolated land mass on Earth – in the Hawaiian island chain. Ever since I was a kid, my family vacationed there many times a year, and it holds a very special place in my heart. Aside from its raw physical beauty, it has a deeply spiritual and sentimental meaning as well, as the ashes of both my grandmother and grandfather were scattered there (as mine and my mother's will be as well when our time comes). 
I have many memories of Kauai, particularly with my grandfather. We hiked up the rocks, spent time watching the sea turtles frolicking in the surf, and took helicopter and boat rides that showcased the majesty of the Na Pali cliffs – where emerald green cliff spikes jut up towards the heavens in front of crystal clear turquoise blue water.
I had a particularly close relationship with my grandfather, in part because I grew up without a father. So he filled that role for me, and treated me like one of his own children. He was my hero, and he had a spirit and charisma that could fill a room like no one else. Despite facing racial animus, he managed to become the first African-American to attain the rank of Chief in the Los Angeles Sheriff's Department. But while he could be imposing to those that did not know him, to me, he was just grandpa.
While my grandmother liked Hawaii, my grandfather (like me) loved Hawaii. It was his dream to live there one day, and though he never got to achieve that, I feel his presence there now. To this day, whenever I return to Kauai, I feel his spirit wrapping me up in the big bear hugs he was famous for giving me.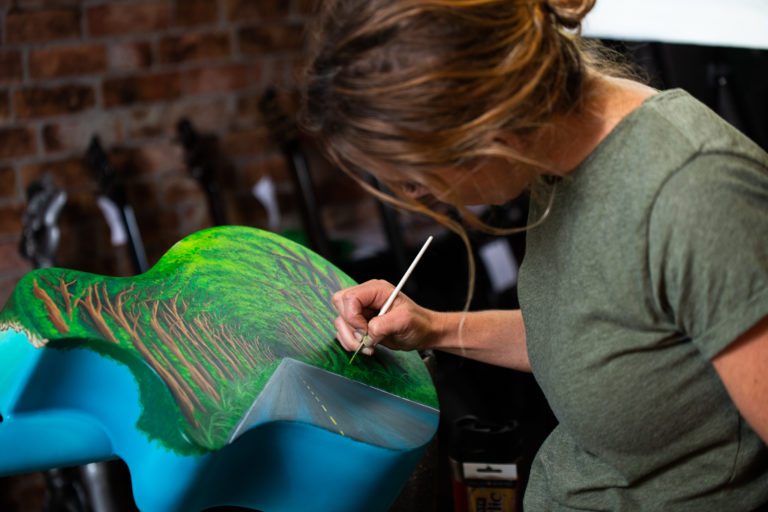 So because I had become aware of the wonderful painted guitars that had been made by Emerald, I decided to order one with Kauai scenery upon it. I play only Hawaiian music on the guitar, and it seemed like an appropriate subject matter, especially as I already have a Kauai-themed ukulele as well.
I contacted Alistair about it, and he mentioned that he would be happy to create the guitar, and he knew the perfect person to complete the artwork, his sister-in-law Jessica, who was an artist that specialized in seascapes.
What had began as a simple idea evolved into a whirlwind, as Jessica was only going to be in Ireland a for a little while, so the guitar would need to be completed soon. I sent off some photos of the two places I wished to capture, the Na Pali coastline (where my grandfather and I had visited, and my grandparents' ashes now rested) and the Koloa tree tunnel – the road that is the gateway to the portion of the island where we always would stay (it was a symbolic path to the place I love most in the world).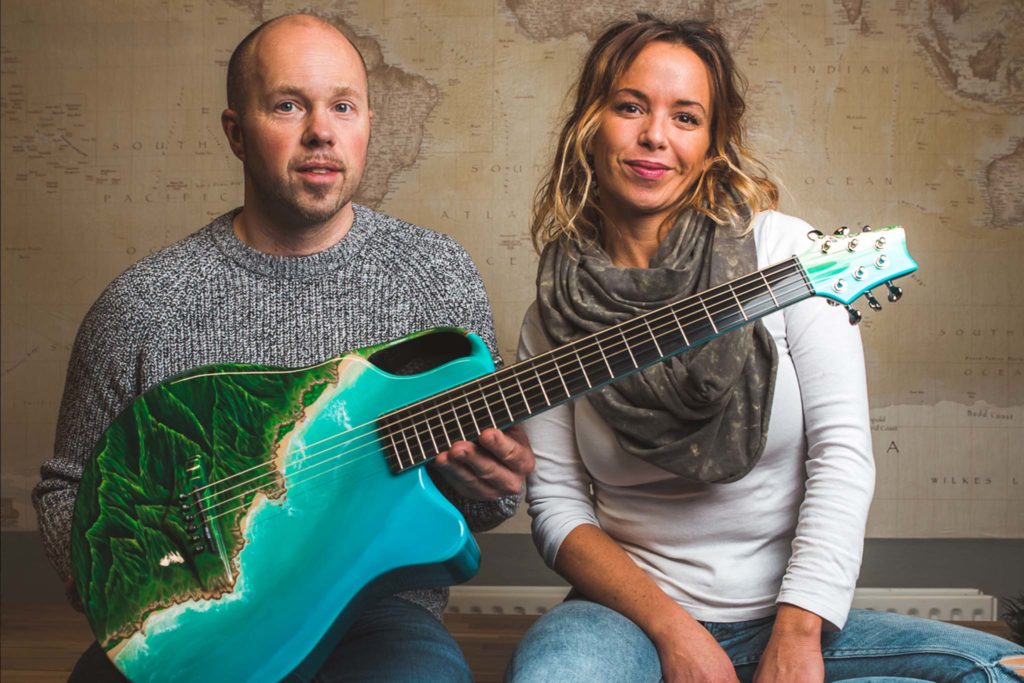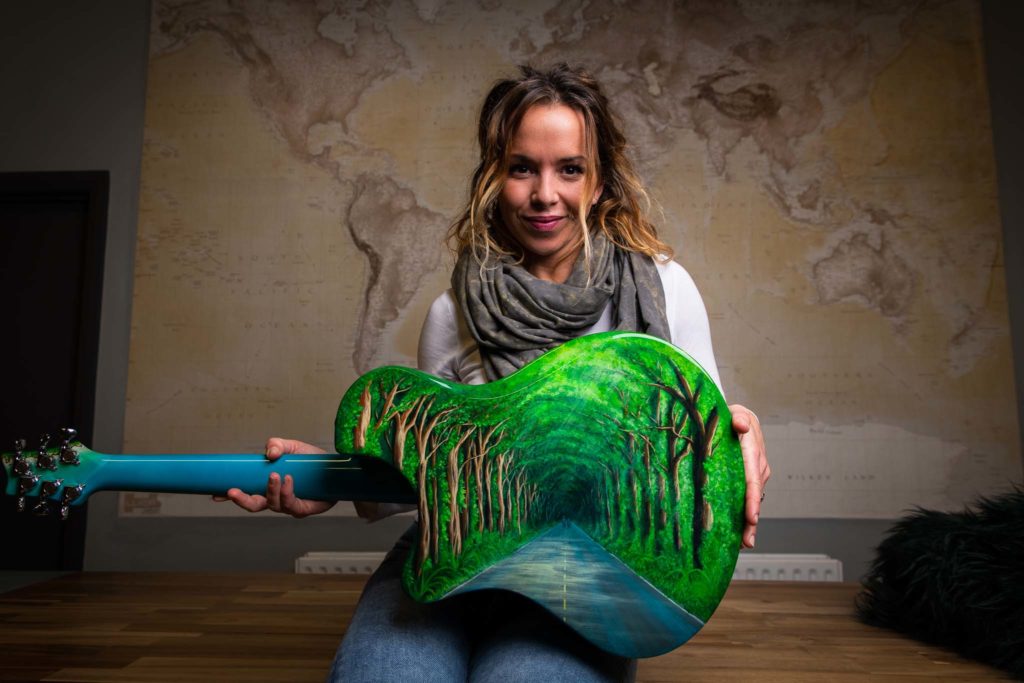 I happened to mention that I had always associated the sea turtles with my grandparents, and if there was a way to include one, that would be wonderful. I also told Alistair and Jessica two Hawaiian phrases that held special meaning to me: "Aloha Oe" – which means farewell to thee, and "Kahi Ko'ola Uhane" – which means place where the spirit resides. I always felt as though my spirit truly resides in Kauai, and I am only reunited with it when I am on the island, and their spirits actually reside there now as it is their final resting place. Aloha Oe is from a song written by Hawaii's last monarch and it is considered a farewell to a loved one until you meet again.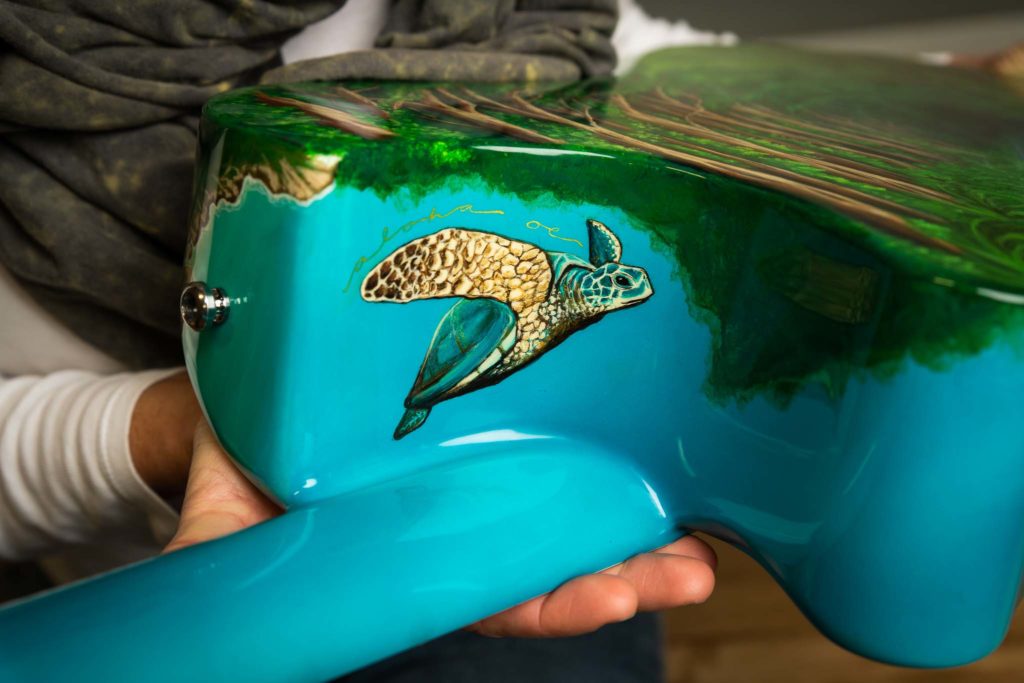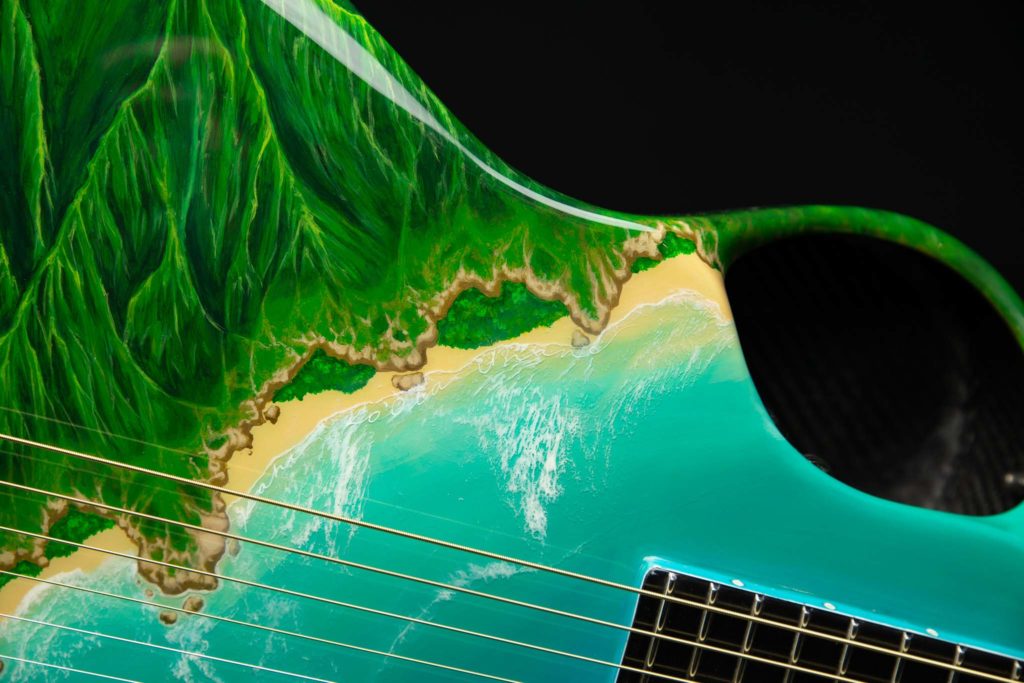 When the guitar arrived, Alistair had asked me to wait until he could watch me open it live through video chat. It was incredibly difficult to leave that box unopened from Saturday morning (when it was delivered) until I could open it up on Monday in front of him. But I am so glad that I did. I can never put into words the joy, wonder and gratitude that went through me when I opened that case, and I am so grateful that Alistair, Jessica and the Emerald team were there with me when I did.
The first thing you notice about this guitar are the deep emerald green of the cliffs of the coastline. It is like you are being transported there – the artwork captures the sharp peaks and jewel tones of the landscape. The ocean is stunning, greens that fade to teal and blues, with whitecaps along the edge of the water. It looks three-dimensional and makes me feel like I am back in that helicopter flying over the island. When I lifted it out of the case, I turned it over to see the tree tunnel. Just as in reality, the painting reflects the eucalyptus trees that form a canopy over the highway.
In addition to the stunning land and seascapes, it is the little touches – the waves along the Na Pali coast spell out "Kahi Ko'ola Uhane (place where the spirit resides), the honu turtle (which I have already named Luka – Luke for my grandfather in Hawaiian) saying Aloha Oe (farewell to thee) that make the guitar so personal.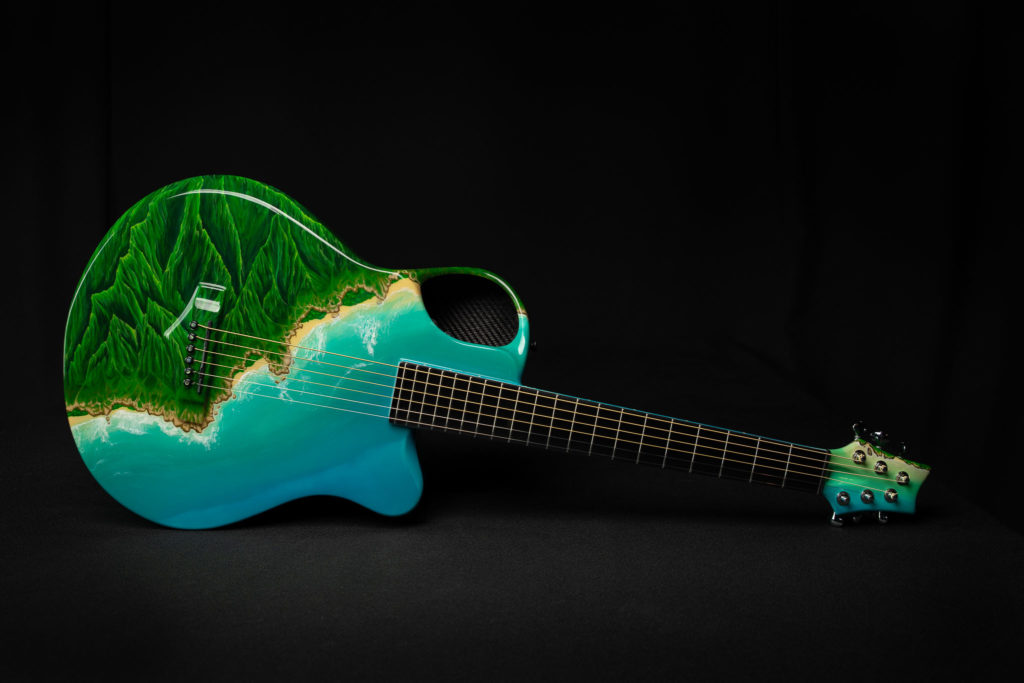 Perhaps most special of all, walking down the Koloa tree tunnel are silhouettes of me with my grandfather. It was seeing us, hand in hand, that truly choked me up the most. It was like he was walking alongside me, guiding me, in the place we both loved best.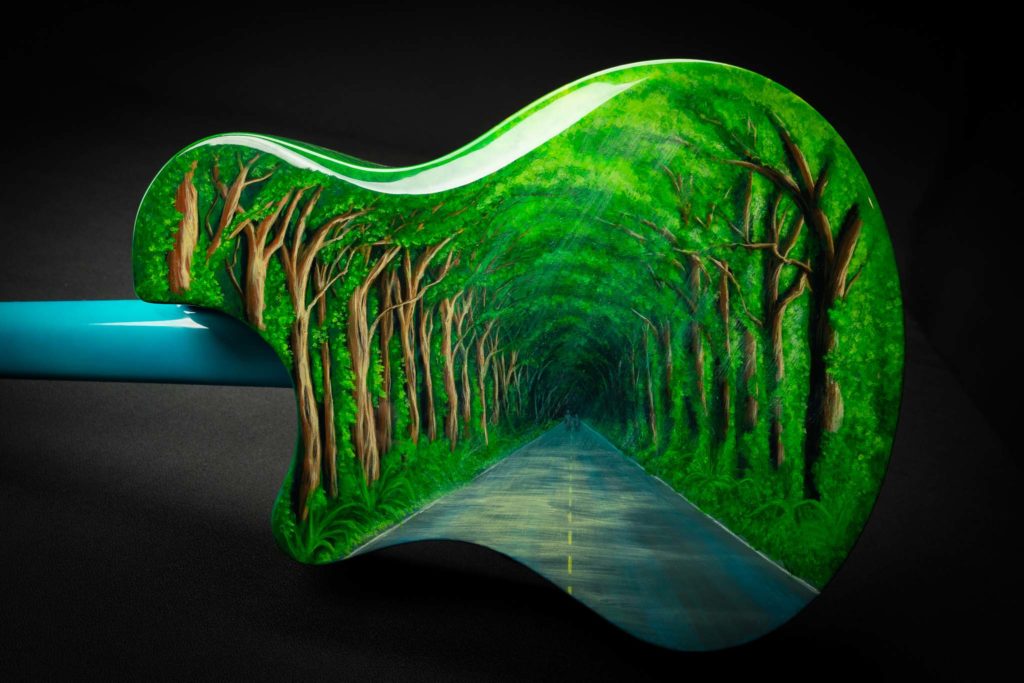 There are no words to describe now much I love this guitar. I cried like a baby during the video reveal – though when asked if I was okay with them sharing it online, my biggest concern was actually that my hair was frizzy and shooting from below gave me a double chin. Haha.
This instrument is a physical manifestation of all the feelings and love inside of me for this special place, and the people I shared it with. My grandparents meant the world to me, and to have this embodiment of where they now rest is priceless to me. I can never thank Alistair Hay and Jessica Dadiomoff (the artist that painted it) enough for making my dream holy grail instrument a reality. It truly brings the place I love most in all the world, Kauai, into my hands.
There is a phrase in the Hawaiian language that speaks of how slack-key guitar (the Hawaiian style of music I play) is an expression of your spirit. "Ka pu'uwai ame ka'uhane me ke na manamana lima (The heart and the soul through the fingers)." I am not a good guitar player, but I vow that I will always play this instrument truly with my heart and soul. Finally, and fittingly, because all the best guitars have names, it is now forever known as Ceol mo chroi (music of my heart).
Building Stories One Guitar At A Time – The Story of Emerald Guitars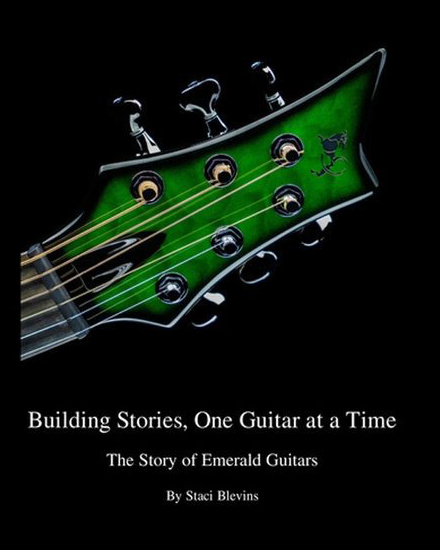 After a full year in the works, we can announce that author Staci Blevins from California has released her latest book which is now officially available for purchase. Click here for more details.